Sustainability
♦New Oasis EcoLogic welfare
The recently launched EcoLogic range offers the latest thinking in 'green' welfare. With increased emphasis on meeting the requirement of continued reduction of your site's Carbon Footprint, the EcoLogic range will not only enable you to significantly reduce the Carbon emissions for providing your site's welfare, but give you the added benefit of significant reductions in your running cost.
There are 5 models in the EcoLogic range giving your sites the flexibility to choose the model which best suits their individual site requirements.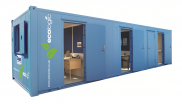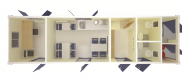 ♦Why choose Oasis EcoLogic welfare for your sites?
Here are 10 reasons why!
NOW ALSO WITH THE OPTION OF INSTANT START SITE SET-UP:
For further information please contact Michelle Clifton
on 01268280500
or visit our website on www.advante.co.uk